A bathtub to shower conversion has the power to transform your bathroom. Offering a space-saving aspect, both real and perceived, it can open up even the smallest of bathrooms. Not to mention a seamless look with safety and maintenance features to boot, it's a game changer. So if you're thinking of making the switch and need some inspiration for the final product, you're in the right place!
Why make the bathtub to shower conversion?
You may be wondering if a bathtub to shower conversion is worth it. After all, it's no small undertaking, especially when most homeowners opt to do a complete renovation alongside a tub to shower conversion. Even so, more than enough reasons make this project a worthy investment. Check out the five significant advantages below that are sure to prove that bath to shower conversions are worthwhile.
Safety: For starters, showers are generally safer than bathtubs. They're also easier to get in and out of, especially for the elderly. The ability to make a short step in and out causes fewer accidental falls than stepping over the lip of a tub. Also, the addition of safety bars, shower seats, and wheelchair accessibility make them an option that grows with you.
Conservation: It's no secret that tubs take a large amount of water to fill. Along with the amount is the fill time. Between the water, energy, and time to fill the tub, you've left quite a footprint. That quickly makes the bathtub to shower conversion the more environmentally friendly choice.
Space: Tubs take up more of the bathroom while offering less usable bathing space. Showers can create more expansive walking space, a more open feel, and a far larger bathing area. You'll be shocked at how much more space a conversion provides, even with a bigger shower install.
Health: While it's true baths have some excellent health benefits, and it's not the best option for overall skin health. Baths can strip your skin of the natural, protective oils it produces. With light pressure, showers provide necessary hygiene without soaking off essential skin nutrients.
Style: Last but not least, removing a tub gives a bathroom an attractive, modern feel. Gone are the days of garden tubs and shower, tub combinations. A sizable shower is most desirable and stylish.
All things considered, showers have some serious advantages over the traditional bathtub. Still not convinced? Maybe these tub to shower conversion before and after photos will do the trick! Ready to take your builder-grade bathroom to a customized oasis? Check out our finished projects to help get you started with tub to shower conversion ideas. Let's jump right in!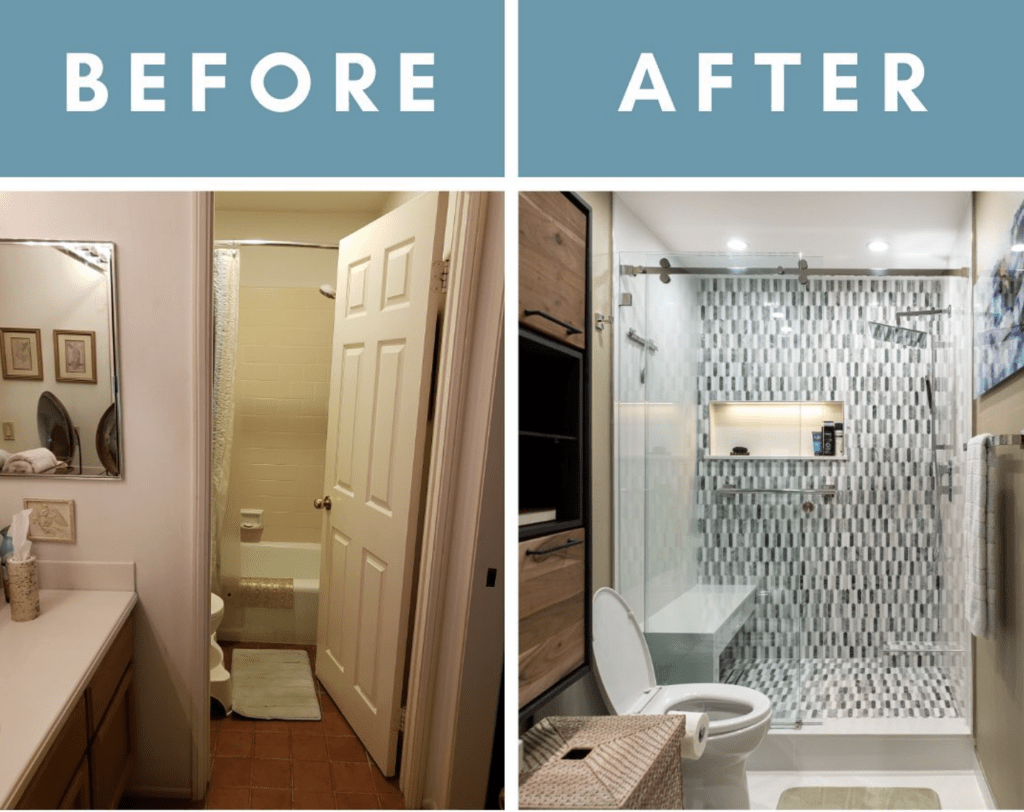 A rolling frameless door is an excellent solution for making an update in a small space. The door's ability to roll on a mounted track above means no swinging door taking up valuable space. Not only is it functional, but it's also a modern touch with plenty of styles. For example, in the bathtub to shower conversion above, the elimination of the tub created more space around the commode and a larger bathing area altogether.
This bathroom remodel to shower shows the beauty of a frameless door system. The beautiful patterned tile work can shine without a curtain or frame getting in its way. A rich, earthy color scheme incorporated throughout makes for a warm and cohesive finished product.

Though the hinged system forces the door to swing into the bathroom, it's well worth the conversion. While a frameless transformation is featured in the bathroom above, there's also a framed option for hinged systems. Likewise, hinged doors can function as a single door, as seen in the bathtub to shower conversion above, or a dual system with hinges on both sides. No matter your choice, hinged systems are far easier to move in and out than a tub setup.
In this bathtub converted to walk in shower, the black fixtures bring the bathroom up to speed, flowing with the other dark touches in the shower's tile work. An even split of light and dark, the walls, countertops, and wood additions even out the palette leaving a fresh and sleek design.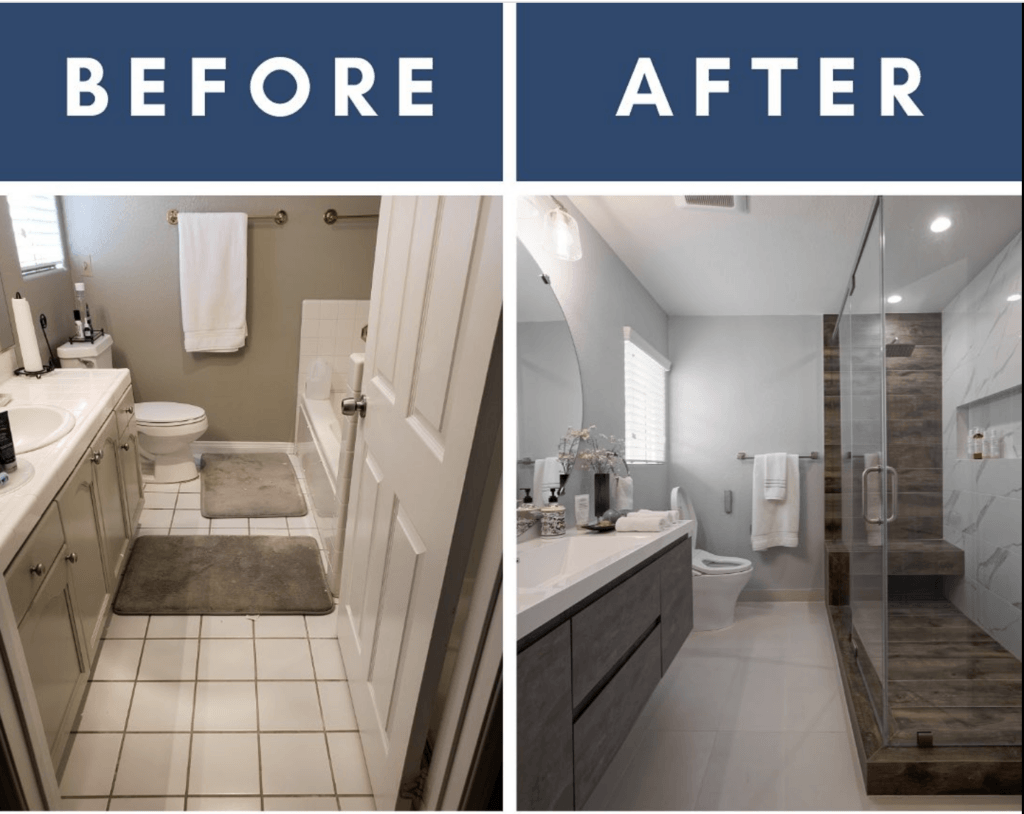 Semi-frameless enclosures are the best of both worlds. You can rest assured of its integrity by providing extra stability on the framed edges. Simultaneously, leaving other edges with the much-desired clean glass corners gives your shower a seamless finish. The semi-frameless shower stall above makes use of the space more efficiently, offering double the bathing space without the clunky tub.
In terms of style, this bathtub remodel to shower takes a significant turn from basic to luxurious. Dark neutrals are traded for cool tones coupled with varied wood grains that, combined, make for an unbelievable overhaul.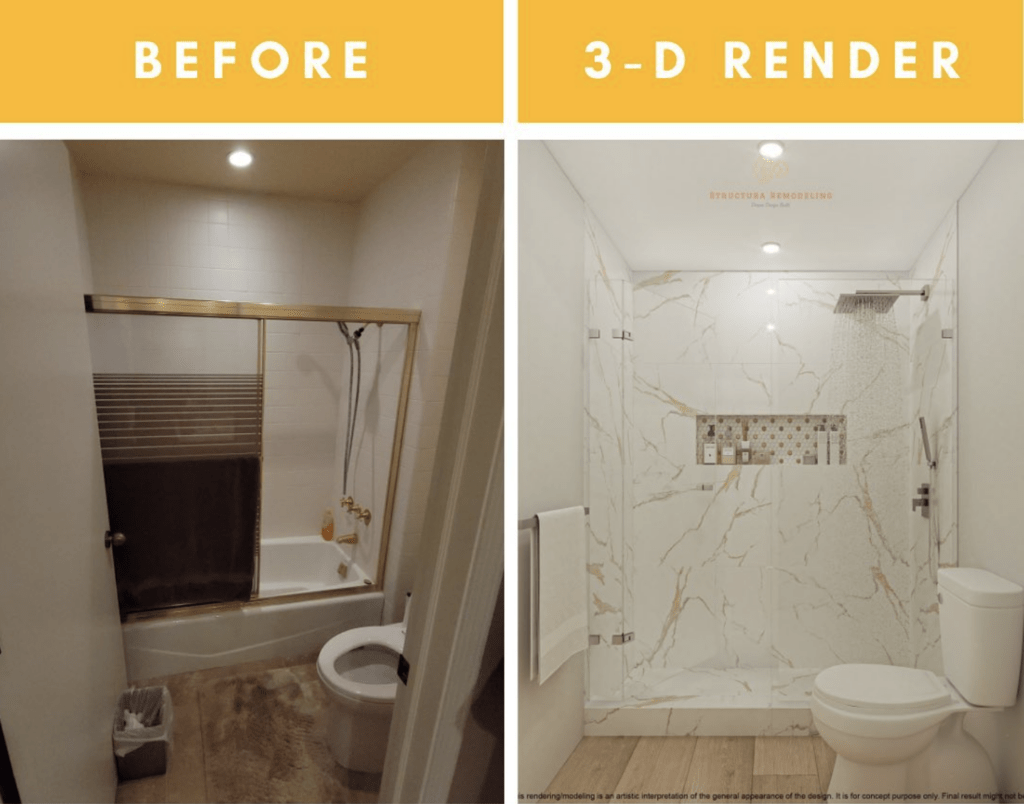 Often confused with hinged doors, pivot doors have their unique advantage. Pivot doors can swing both in and out, providing options based on your bathroom configuration. In addition, the replacement of the tub with a step-up shower creates a much safer bathing environment as well. Given that the tub above posed even more dangers as it included an enclosure, this bathtub to shower conversion has dramatically reduced the risk of accidents.
Proof that you don't have to sacrifice style for safety, this bathtub converted to walk in shower boasts beautiful marble shower walls and flooring. Accompanied by upgraded fixtures like the rainshower head and built-in storage, it's a significant step up from the tub it once was.

While this bathtub to shower remodel above doesn't eliminate the tub completely, it converts it into a much more user-friendly space. This is a viable option if you're not ready to part ways with your tub but still want a modern, updated look. The frameless hinged door eliminates the hazards of an old enclosure while still giving its users whichever bathing method they prefer.
Though this wasn't a complete bathtub to shower conversion as the tub wasn't fully converted, it was swapped out for a deeper, more contemporary model. Adding a colorful, full wall tile paired with solid neutrals offers a welcomed contrast with a balanced simplicity.
FAQ
Is a bathtub to shower conversion bad for resale value?
Contrary to what you may hear, a bathtub to shower conversion does not affect a home's resale value. If anything, it's quite the opposite! A well-thought-out tub remodel can increase the value of a home, creating an irresistible appeal to potential buyers. There's only one rule to keep in mind regarding the resale value and tub conversions, and that's the number of tubs in the home. Removing the only tub in a home might decrease home value, so it's best to consider this before beginning a bathroom remodel.
How long does a bathtub to shower conversion take?
The timeline for a bath to shower conversions varies. Each project requires a different scope of work depending on the scale of the client's remodel. Even a simple tub conversion involves demo work, tiling, plumbing, and the like. That said, the tub to shower conversion alone averages 12 to 16 days.
Why aren't framed shower doors as popular as they used to be?
Framed shower doors used to be the updated option; however, they're not a first (or even second) choice nowadays. With modern styles leaning toward more sleek and minimal designs, homeowners don't want the extra trimming and metal pieces a framed system requires. Clean lines are in, meaning frameless showers take the top spot.
After the conversion, how do I maintain my shower?
After a bathtub to shower conversion, proper maintenance is crucial to keeping your shower looking good as new. Weekly cleaning will protect against grime, mold, and hard water stains. Depending on your design, the grout may also play a significant role in your shower's maintenance. Ensuring your grout is re-sealed correctly every 6 months will prevent major repairs in the future. Also, don't forget your fixtures. Shower heads often need cleaning to function properly, as do handles, bars, and the like. They should also be checked for leaks or dripping.
Conclusion
A bathtub to shower conversion will take your bathroom to the next level. Offering many advantages that go beyond just the aesthetics, it makes the switch an easy choice. No matter your style, there's a bathtub to shower remodel to meet your needs. Likewise, endless opportunities for customization ensure your finished product will be exactly what you envisioned.
Call Structura today. Start Living Your Dreams.A free consultation is only a phone call away.
Structura Remodeling and Design Company
Call Today 1800-922-4613 for a free in-home estimate.
Structura Remodel and Design Company…Dream. Design. Build.